Impression Technique: Traditional or Digital

About Fortress Mouthguards
Fortress Mouthguards are custom-made and professionally-fitted to ensure a high level of comfort and protection. They consist of multiple layers of laminate to add strength and durability.
Fortress mouthguards offer the following benefits:
Protection of the lips, teeth and jaw from most collision-induced injury
Minimal interference to speaking and breathing even under demanding conditions
Multi-layered laminate for extra protection
Custom fit offers good retention and comfort
Sizes Available
A range of mouthguard types are available to suit your required level of protection.
Type of Protections
Recommended for
Name/No
Custom-printed
Up to two
individual colours
Fortress Light
Double-laminated for
good all-round coverage
Juniors
✔
✔
Fortress Medium
Double-laminated for
good all-round coverage
Majority of team
sports, junior to senior
✔
✔
Fortress Heavy
Triple-laminated layers
over 70% of the mouthguard
High-impact contact sports,
A-grade level
✔
✔
Custom Colour Options
Fortress Mouthguards combine premium strength with a fantastic, comprehensive range of team colour combinations using the Briteguard Easy Colour System.
Every colour, and every colour combination in this range has been rigorously tested to ensure its safety. The colours also meet the Standards of the ISO 9002 Quality Assurance Model and the requirements of European and US regulations for food products.
Plain Colours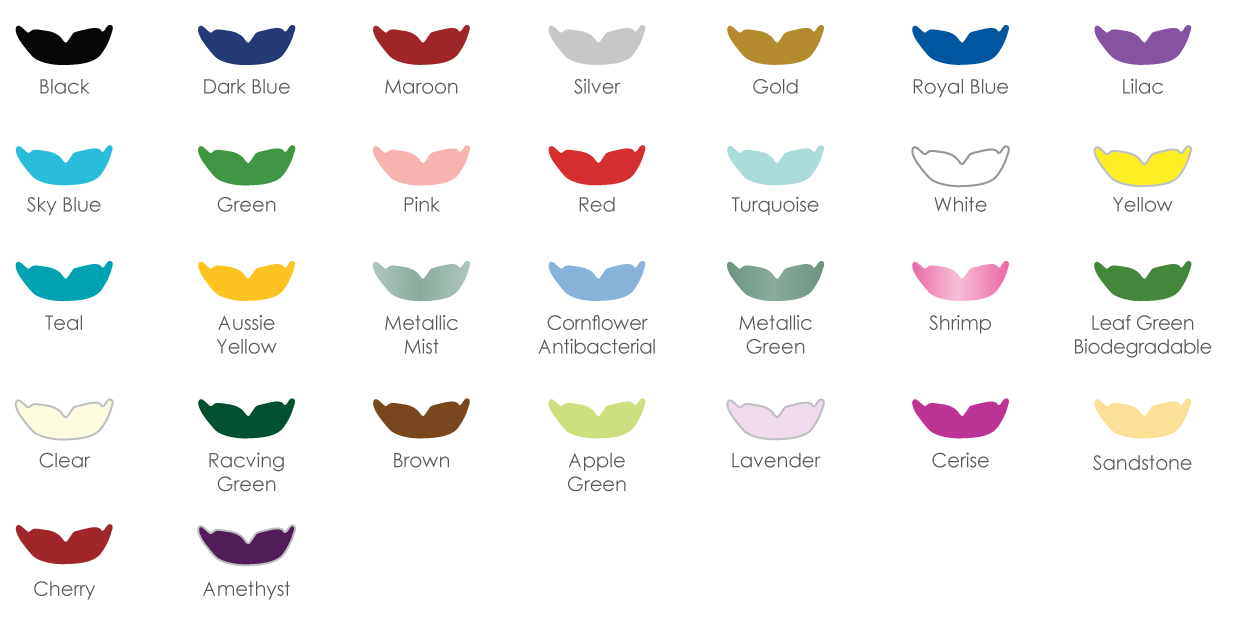 Flurescent Colours

Pearl Colours

Team Logos
Race Dental Laboratory can print your team or sponsor logo on your mouthguard - a great way to raise extra sponsorship dollars! Please speak to one of our dentists for more information. Additional charges may apply.

Preferred Dentist / Prosthetist Program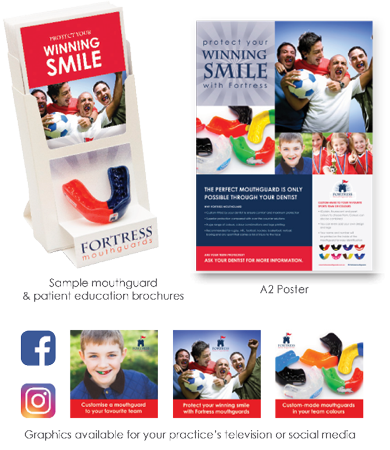 The Fortress Mouthguards Preferred Dentist / Preferred Prosthetist Program provides Patient Education Material and you can list your practice on this website as a preferred dentist or prosthetist. Pre-purchase of 1 mouthguard required.
Why is Patient Education Important?
Many of your patients play sport but are unaware of the benefits of using a properly fitted, custom built Mouthguard made from a professionally taken dental impression. If your patients are unaware of the dental health and sporting performance benefits of a custom mouthguard, and that wearing a Fortress Mouthguard can avoid costly and painful dental work after an injury to the face, patients will tend to opt for low cost 'boil and bite' Mouthguards which do not offer the same level of protection.
Patient Education Materials:
1 x Sample mouthguard
1 x Brochure display
50 x Patient education brochures
1 x A2 poster
1 X A4 poster
Graphics for social media and practice TV
Free website listing on our website